Carl Zeiss Jena Binoctarmo 7x50
Die Carl Zeiss 7x50 "Binoctarmos" - Nachfolger des 7x50-Vorkriegsmodells - stammen DDR-Produktion, was sich auch an dem 1Q-Zeichen erkennen lässt.
Das Modell mit der Seriennummer 2446750 (Bild 1) ist von 1949/50, das Modell mit der Seriennummer 4335669 von 1975, das Modell 6413370 von 1986, das mit Nr. 7282233 (Bild 2) ist bereits nach der deutschen Wiederverinigung in 1991 hergestellt worden; kurz danach wurde das 7x50 von Docter Optic in den 1990er noch einige Zeit gefertigt.
The Carl Zeiss 7x50 "Binoctarmos" - successor of the pre-war 7x50s - were made in East-Geramany (GDR), which can also be seen by the "1Q" sign, a quality label.
The model with the serial number 2446750 (pic 1) dates from 1949/50, the model with number 4335669 dates from 1975, number 6413370 dates from 1986, and the Binoctarmo marked 7282233 (pic 2) was alreeady made after the German re-unification in 1991. shortly after the 7x50 was continued by Docter Optic for some years in the 1990s.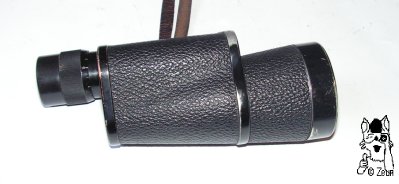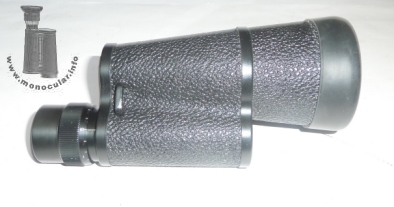 | | |
| --- | --- |
| Die abgebildete Binoctarmo-Deckel tragen das DDR-Qualitätszeichen "1Q", andere spätere Modelle sind auch mit "made in DDR" oder "DDR" gekennzeichnet, das späte aus der Wendezeit ist mit "Made in Germany" gekennzeichnet und die "7 x 50" mit Abständen versehen, um bündig unter das Logo zu passen (vgl. Docter-Modell). Es dürfte auch Exemplare mit der Exportkennzeichnung "(aus) Jena" geben. In einem weitern Foto ist ein 7x50-Gehäusedeckel abgebildet, der ein erhabenes Zeiss-Logo, aber keinen anderen Kennzeichnungen hat; die magenta Mehrfachvergütung der Linse weist auf ein späten Produktionszeitraum hin, evtl. kurz nach der Wende (1990?). | The cover plates depicted here bear the GDR "1Q" sign, some later models are marked "Made in DDR" or "DDR", the model from the 1991 is inscribed "Made in Germany" and the "7 x 50" is spaced in order to fit justified under the Zeiss logo (cf. Docter model). There will also be some surviving export models with "aus Jena" or just "Jena" on the covers. Another picture shows a cover plate only a raised Carl Zeiss Jena logo; its magenta multi-coating hints to a late specimen, probably shortly after 1990. |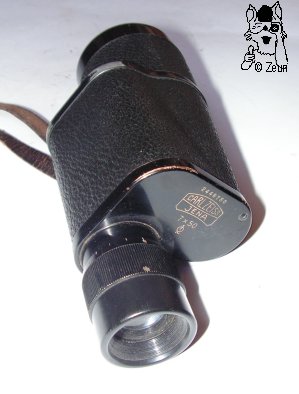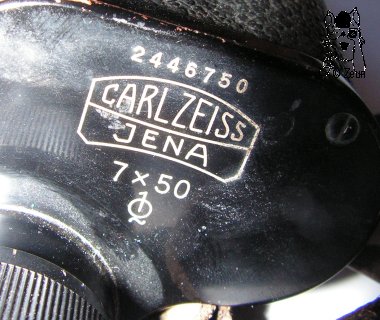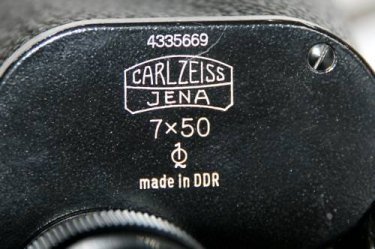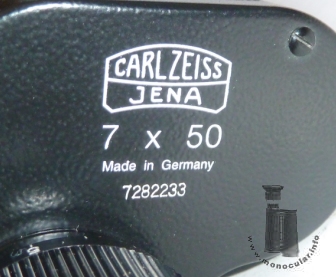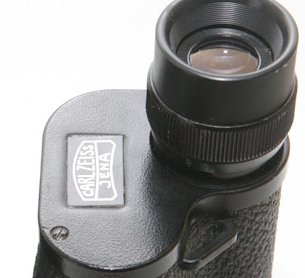 Die vorliegenden Modelle außer dem mit erhabenem Logo haben alle ein linksseitiges Okularstück. Die schwarz lackierten Alu-Deckel sind einfach verschraubt. Das Hartgummi überzogene Gehäuse hat eine eingegossene Tageriemenöse. Im frühen Binoctarmon ist eine Objektivlinse in einem kegelfürmigen Blendtubus eingeschraubt, der wiederum im Gehäuse eingeschraubt ist, während die äußere Abdeckfassung durch Dichtungsfett am Kegelende gehalten wird. Beim sehr späten 7x50 ist die Objektivlinse direkt in den Objektivtubus (innenliegende Rillen als Streulichtschutz) eingeschraubt und mit einer aufgeschraubten Fassung abgedeckt. Außerdem gibt es einen Gummischutzring. Am Prismenstuhl ist die Produktionsnummer "2065/6-7" eingstempelt
Die Vergütung wechselte von blau (ca. 1950-1960er) über die "multi-coated" Vergütung (T3M) in blau-violett (1970er bis in die 80er) zu der magenta-farbigen (1980er).
The models known, except the late 7x50 with the raised logo, all come with a left-hand sided eyepiece. The black painted covers have one screw. The Ebonite covered housing has a cast-in strap lug. The early Binoctarmo has an objective lens screwed into a funnel-shaped tube which again is screwed onto the housing, while the objective end frame is just pushed onto the funnel-shaped tube end and held by a grease layer. The very late 7x50 has an objective lens directly screwed into the conical objective tube. The objective tube has some anti-reflex grooves inside near the prism housing. The objective frame ring is screwed onto the tube end. Moreover, there is a rubber protection ring. The production number "2065/6-7" is stamped into the prism cage inside.
The coating colours changed from blue, over blueish-violet (multi-caoted, T3M) to magenta.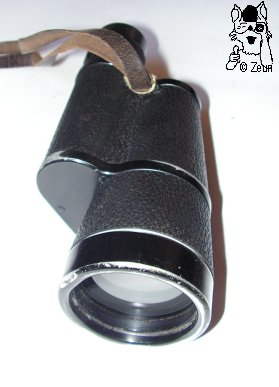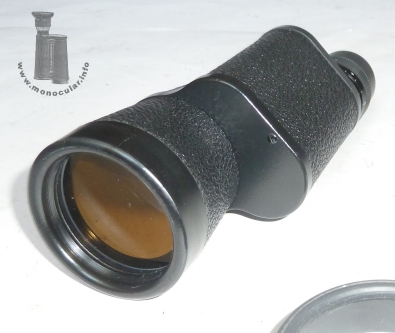 Das Binoctarmo wiegt 461g bzw. 470g mit Trageriemen (das Modell #7282233 451g), es ist 175-185mm lang, das Gehäuse oben 61x61mm und unten 69x69mm breit. Der konische Objektivtubus verbreitert sich von 55mm zu 63mm im Durchmesser. Das Okularstück ist 31mm, der Fokussierungsring 35mm und die Augenmuschel 34mm im Durchmesser; beim #7282233-Modell ist der fokussierungsring 36mm im Durchmesser und ewas kürzer.
Die große Austrittspupille ist 7mm. Das Sehfeld erreicht 128m/1000m. Die Dioptrienskala ist umlaufend und ist bei +5 bis -5 markiert.
Passend dazu gab es ein Lederfutteral.
It weighs 470g with strap, its length is 63x63x165mm, and the objective lens frame is 63mm in diameter.
The wide exit pupil is a 7mm in diameter. The field of view is 128m/1000m. The dioptre scale runs fully around the eyepiece and is marked from +5 to 5.
A fitting leather case came with the 7x50.
Fotos: Zeun; Ebay-Auktion