Carl Zeiss 12x / 15x / 20x / 24x 60mm
| | |
| --- | --- |
| Eines der ersten Aussichtsfernrohre mit kurzer Baulänge (kurzbrennweitig) nach dem kleinen Dosenfernrohr war ab ca. 1905 das 60mm Monokular mit Wechselokularen. Jeweils zwei Okulare wurden mitgeliefert - möglich waren 12x, 15x, 20x und 24x. Die Fokussierung geschah durch den Stecktubus des Okularstücks. Es hatte ein rundes Prismengehäuse mit Porro-II-Prismen, einen konischen Objektivtubus mit ausziehbarer Sonnenblende und einer Visiereinrichtung sowie einer Schwalbenschwanzmontierung für den Stativadapter. Es gab zwei Versionen: von 1905 bis ca. 1910 als Modell "Stanziava", danach als "Tela" bis in die 1930er Jahre. Als 15x60 Modell wurde es sehr ähnlich dem Tela für die Signal- und Blinkgeräte gebaut. | One of the first observation telescopes with a short tube design (short focal length) after the small revolver telescope was the 60mm monocular with exchangeable eyepeices since about 1905. Two eyepieces were supplied with the telescope. The buyer had a chocie of 12x, 15x, 20x, 24x. Focusing was done by turning the plug-in eyepiece tube.The monocualr had a round prism housing with a porro II prism system, a conical objective tube with an extendable ray-shade, an analogue sight, and a dove-tail mount for the tripod adapter. There were two successing models: from 1905 until about 1910 the model was called "Atnzivia", then it was named "Tela" until the 1930s. Very close to the "Tela" design it was made as the As 15x60 model for signalling and blink apparatuses. |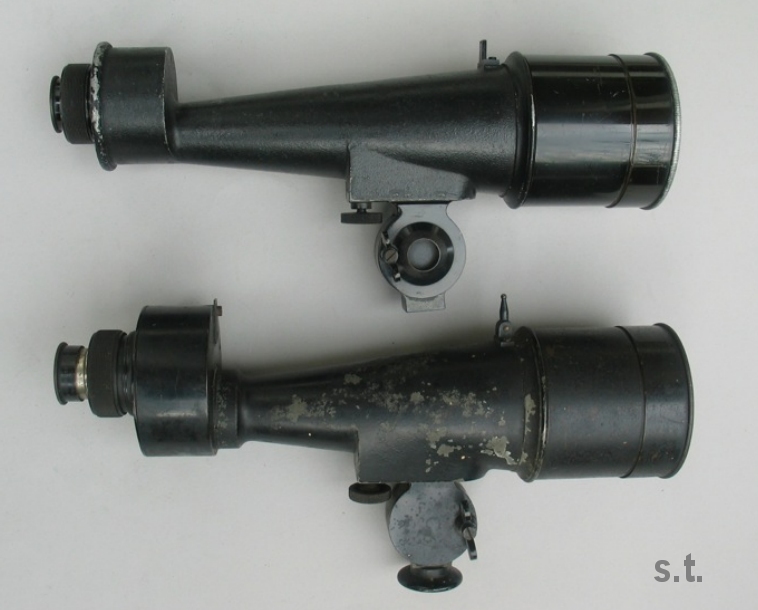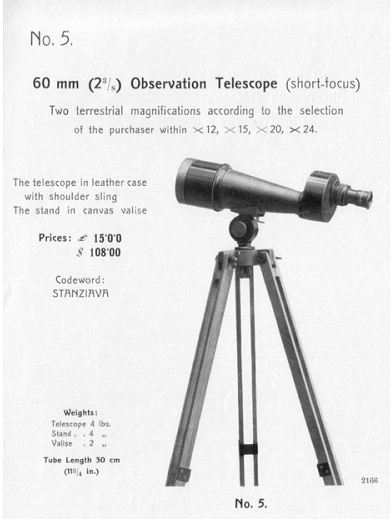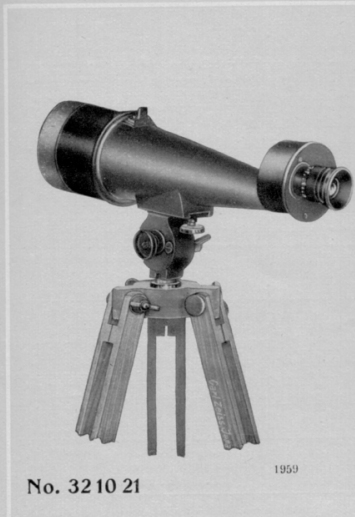 | | |
| --- | --- |
| Das 1. Modell "Stanzivia" weist eine etwas gedrungenere Bauform auf mit einem leicht längerem und dickeren Prismengehäuse und einem Ansatzstück zum konischen Objektivtubus. Das Korn des Visiers lässt sich einklappen. Beim "Tela" Modell ist die Bauform schlanker mit einem ansatzlosen am Prismengehäuse eingegossenen konischen Tubus. Das Prismengehäuse ist kürzer und geringer im Durchmesser, wodurch das Visier auch fest ist und die Kimme teilweise als Nut im überstehenden Gehäusedeckel ist. Die Gesamtlänge ist ungefähr gleich. Das Tela gab es scheinbar mit Wechselokularen (ggf. von 1910-1914) und ggf. später (ab 1915/1920) mit einem festen Okular mit Dioptrienausgleich (s. Katalogbild 1915). | The first model "Stanzivia" comes with a more compact design with a slightly longer and thicker prism body as well as a sort of base piece between the body and objective tube. The bead piece of the sight can be folded down. The "Tela" model comes with a more slender design with a cast-in objective tube on the prism housing having no intermediate base piece. The prism body is shorter and of a smaller diameter. So, the bead sight is fixed and the notch is sometimes cut into the overlapping prism housing cover. Their overall length is about the same. The Tela may have been issued in two versions, one with the interchangeable eyepieces (prob. 1910-1914) and maybe later (since 1915/1920) with a fixed eyepiece and a dioptre adjustment (cf. catalogue drawing). |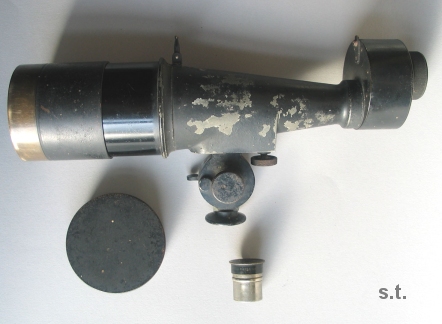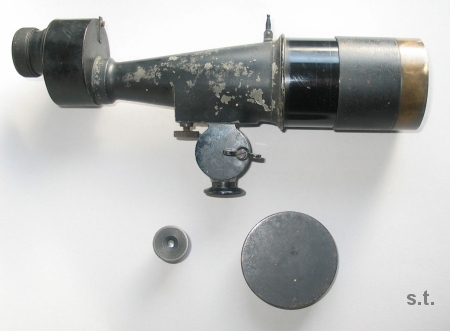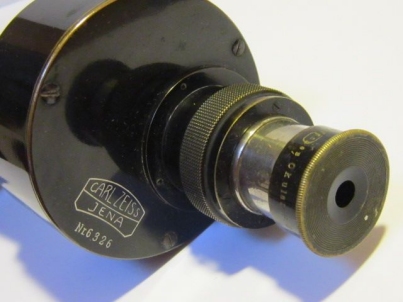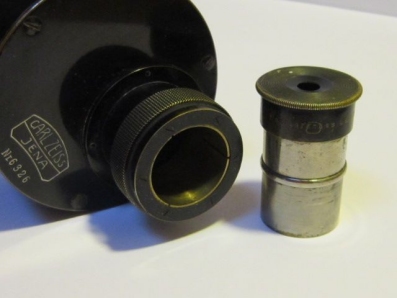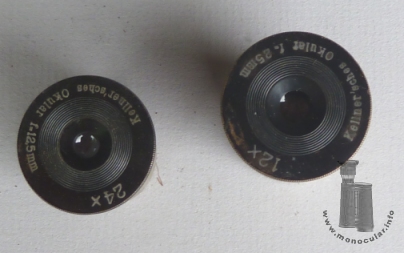 Der zweifach verschraubte Gehäusedeckel ist mit dem Zeiss-Linsen-Logo sowie einer Seriennummer beschriftet. Das Steckokular ist an der schwarz lackierten Augenmuschel seitlich mit "Carl Zeiss Jena" und oben als "Kellner'sches Okular" und der jeweiligen Brennweite gekennzeichnet.
Das vorliegende "Tela" ist ohne Schutzkappe und Okular 302mm lang, wenn der Fokussierer herausgedreht ist 10mm länger. Das eingesteckte Okular steht 20mm heraus. Die Sonnenblende lässt sich um 45mm herausziehen. Dies ergibt eine maximale Länge von 377mm. Der konsiche Tubus ist 170mm lang und verbreitert sich von 33 auf 67mm im Durchmesser. Das 36mm lange Prismengehäuse hat einen Durchmesser von 60mm. Der Gehäusdeckel ist oben 65mm im Durchmesser bzw. verbreitert sich auf 69mm an der Seite, wo die Okularhülse eingeschraubt ist. Diese Okularhülse ist 38mm, der Fokussierungsteil 42mm, das Steckoukular 25mm und dessen Metallaugenmuschel 39mm im Durchmesser. Der gerade Objektivtubs ist 76mm, die Sonennblende 80mm im Durchmesser. Der Montageschuh für den Schwalbenschwanz misst 33x65mm. Das Tela wiegt 1024g ohne Okular und Schutzkappe.
The housing cover with two screws is marked with the Zeiss lens logo and a serial number. The black painted eyecup of the slip-in eyepiece is engraved with "Carl Zeiss Jena" on its sdie and "Kellner'sches Okular" plus its focal length on the top.
The "Tela" I have is 302mm long without eyepouece and protection cap. Wehen the focuser is turned out to its max it adds 10mm to the length. The slupped in eyepiece protrudes 20mm. The sunshade extends 45mm. This sums upt to a total length of 377mm. The conical tube is 170mm long. It increases from 33mm to 67mm in diameter. The 36mm long prism box is 60mm in diameter.The housing cover is 65mm in diameter at its top, and widens to 69mm at the side wehre the ocualr tube socket is screwed in. The ocular tube itself is 38mm, the focusing part 42mm, the eyepiece 25mm, and the metal eyecup 39mm in diameter. The straight obejctive tube measures 76mm, the sunshade 80mm in diameter. Th mount for the dove-tail adapter is 33x65mm wiede. The telesocpe weighs 1024 without its eyepiece and protection cap.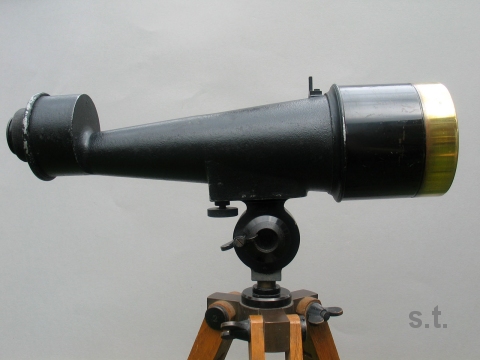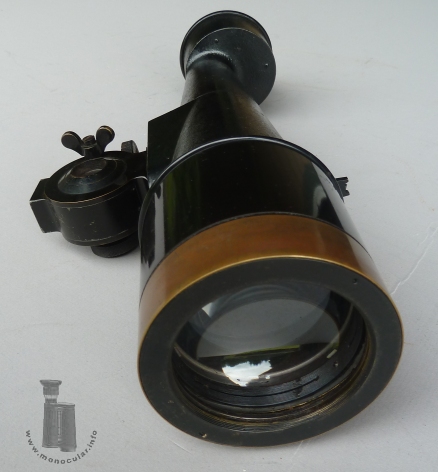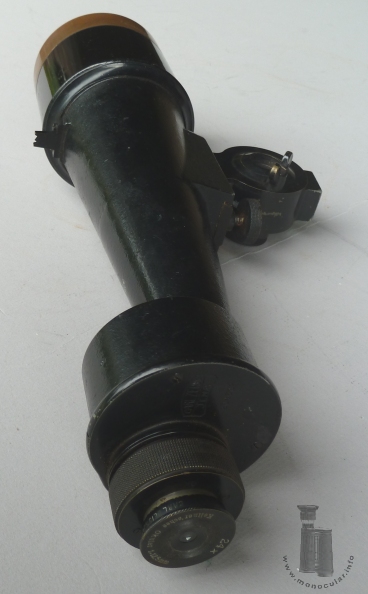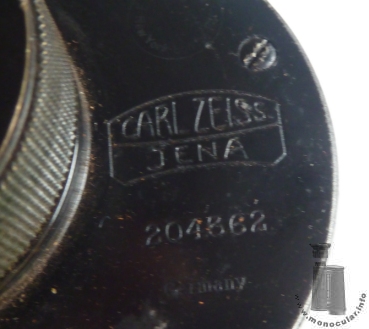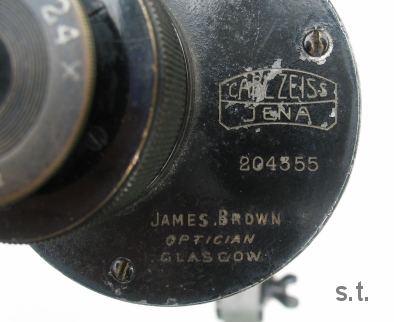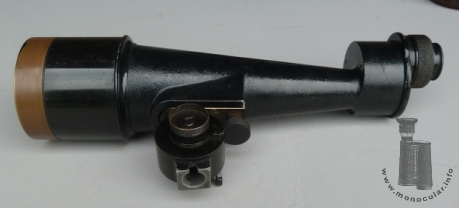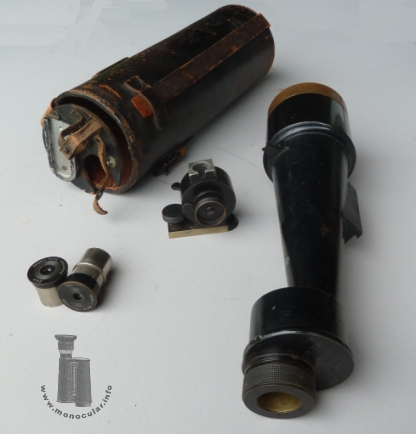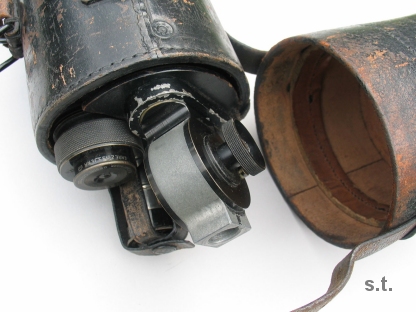 | | |
| --- | --- |
| Das Stanziava bzw. Tela gab es mit einem Stativ und einem Lederköcher zum Verstauen des Fernrohrs und der Okulare sowie des Stativadapters - beim Stanziava auch noch einer Baumschraube. Auc ein Objektivschutzkappe gehörte zum Lieferumfang. | The Stanziava or Tela were available with a tripod and a leather case for the telescope, the eyepieces and the tripod adapter. A tree screw as listed for the Stanziavia as well. A objective protection cap was also part of the set. |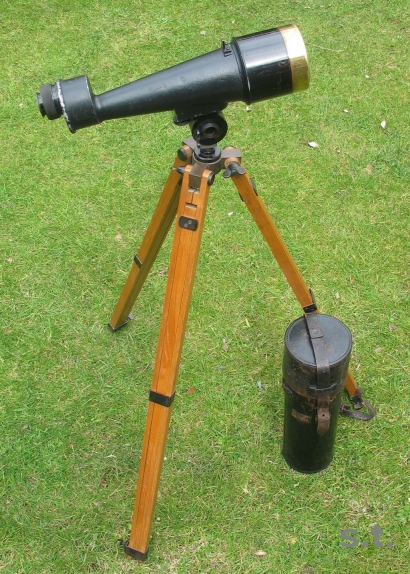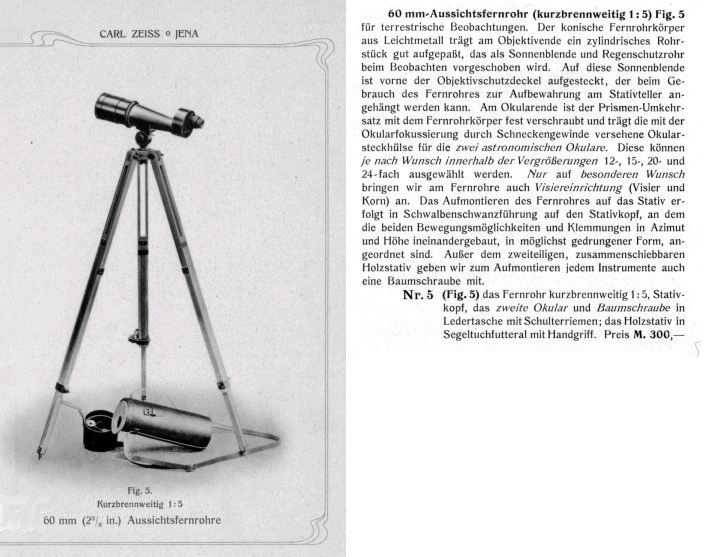 Fotos: Zeun, S. Tomlinson (s.t.), 6-7 Auktion