Carl Zeiss Tellup
Das Tellup (Teleskop-Lupe) von Carl Zeiss (Jena) – gebaut ab den 20er Jahren – kann sowohl als 2,5x Monokular als auch als 6x Lupe benutzt werden. Das Objektivteil fungiert als Lupe, zum Fokussieren des Monokulars werden die Tubusteile aus- und ineinander geschoben (Nahfokus ca. 20cm).
Mir sind zwei Varianten bekannt: das frühe Tellup aus den 20er Jahren ist aus Messing mit schwarzer Lackierung und einem geriffelten Objektivteilende sowie Bakelitaugenmuschel, das Tellup aus den 50er Jahren ist aus mattchromen Metall, die Okularmuschel aus Plastik. Beide sind nicht größer als ein Fingerglied/-hut von 3x2cm und wiegen 20 Gramm (das mattchrome Modell ist eine Idee länger und wiegt 21g).

The Tellup (Telescope-L(o)upe) by Carl Zeiss (Jena) – produced since the 1920s – can be used as a 2.5 monocular as well as a 6x loupe. The objective body is the loupe. The body parts can be drawn in and out for focussing of the monocular (near focus at 20 cm).
I know two types: the early Tellup from the 20s is made of black lacquered brass, having a milled objective lens frame and a Bakelite eye cup, the Tellup from the 1950s is made of dull chrome, the eye piece is made of platic. Both versions are not much bigger than a thimble, i.e. 3x2cm, and weigh 20g (the later model is a bit longer and weighs 21g).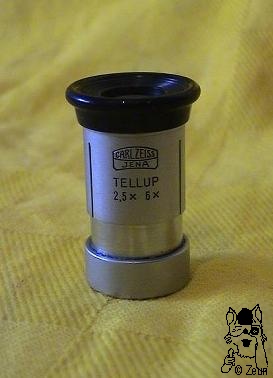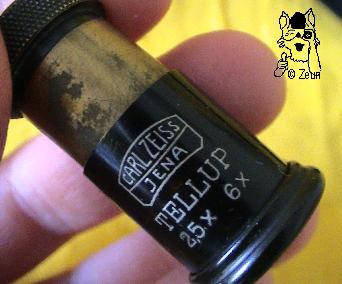 Die Beschriftung auf dem Okulartubus des früheren Tellups ist andersherum als beim späteren.(s. Fotos).

Das modernere Tellup trägt einen "made in Germany"-Aufkleber am Okularfuß.

The inscript ion the ocular tube of the early Tellup is upside-down to the one of the later Tellup (s. photos).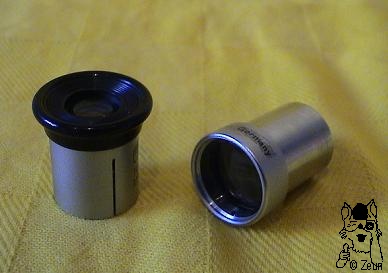 Die beiden Tellupteile: Okular und Lupen-Objektiv. The two parts: ocular and loupe objective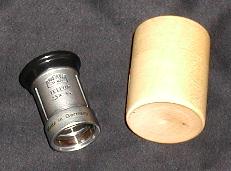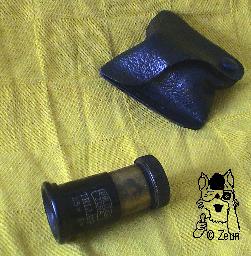 Das 50er Jahre Tellup wurde mit einer kleinen Aufbewahrungsdose aus Holz, das 20er Jahre Tellup mit kleiner Ledertasche geliefert.

Eine Ähnlichkeit des Emoskop mit dem Tellup ist nicht zu übersehen.

Weitere Infos auch unter Carl Zeiss Katalog MED3 von 1938, S. 5

The 50s Tellup came with a small wooden box, the 20s Tellup came with a small leather case.

The look-alike of the tellup and the Emoskop is quite apparent.

Further inofrmation, see Carl Zeiss Catalog MED3 1938, p. 5
Foto: Zeun / www.vintagecameras.co.uk